Skip Navigation
Website Accessibility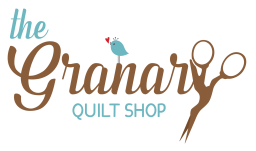 Seagull Paradise BOM Kit RESERVATION/Mo12 Pre-payment
Seagull Paradise BOM Kit RESERVATION/Mo 12 Pre-payment
64" x 80"

This is a pickup BOM that runs from Jan-Dec 2022. This terrific pattern is by Susy's Sitcom and includes full-sized applique templates and block layouts as well as recommendations for hand embroidery.

Who can resist these adorable ocean-themed animals having fun on the sea shore? Seagulls, crabs, clams, and fish all come together in a series of 12 blocks to make this terrific quilt. Most are appliqued; backgrounds and a few blocks are pieced. We are adding a 1" and 5" border to make this the perfect size for a twin bed. Kits will be mostly batik fabrics in colors similar to those shown in the pattern photos and our own Candy will be hand-picking the colors and making our sample blocks. We will include enough fabric for the block backgrounds and appliques each month (and you will have enough fabric to do needle-turn, fusible/turned edge applique, or raw edge applique) as well as the buttons and embroidery floss required for embellishment; month 12 will include the border and binding fabrics. Hand embroidery stitching recommendations are included in the pattern and include Split Stitch, and Chain Stitch, French Knots and Satin Stitch. An optional Sulky thread kit for machine applique will be available for purchase. Kits for this BOM will be ready the end of the 1st week of each month.

Candy will get you started with an introductory 1-hour zoom class on Thursday, January 13th, 6:30-7:30pm. She will also do two follow up/check-in zoom classes during the year (see below). These zoom classes will be recorded and you will be able to access them anytime, so don't worry if you miss one.

If you need your kits shipped, we will ship your kits to you for Mo 2-12, for a flat $4.50 per month shipping fee (continental US only)*.

This purchase reserves your spot for the Seagull Paradise BOM and includes the pattern, your Month 12 kit payment, and access to the Zoom classes. Once you have made this purchase, you will be contacted to put your credit card on file for auto-billing for Mo 2-12.

This BOM is non-cancellable and non-refundable.

*If you would like for your kits to be shipped monthly, please choose shipping at checkout. You will be charged the normal fee for Mo 1 shipping (book + kit + your other purchases). We will charge a subsidized flat $4.50 per mo thereafter (Mo 2-12). Shipping costs are skyrocketing. The normal monthly shipping fee would be $5.99-8.99. However, if you are not local or unable to pick up your kits, we are offering this subsidized monthly shipping fee for this BOM for Mo 2-12 (continental US only). Call the shop if you'd like your kits shipped to HI or Canada.

Size: 64" x 80"
Cost: $61.99 (book + Mo12 Kit + zoom classes) + $19.99/mo for Mo 1-11); shipping charged separately
Number of Kits: 12

Zoom Class Dates and Times:
Thursday, January 13, 2022, 6:30-7:30pm
Thursday, April 14, 2022, 6:30-7:30pm
Thursday, August 18, 2022, 6:30-7:30pm

Useful add-ons for this BOM:
Soft Fuse fusible webbing
Translucent Vellum Paper

Precision Fusing Mat
Sulky Thread Kit for Machine Applique
Marking Pencil
Piecemakers Hand Embroidery needles
Butterfly needle threader
Artbin Super Satchel Storage Box