Skip Navigation
Website Accessibility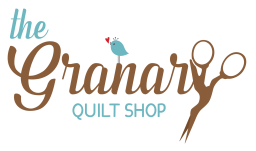 My Kinda Town BOM - Reservation/Pattern/Mo 9
My Kinda Town designed by Peggy Larsen for Fiberworks features 8 whimsical paper pieced blocks in a quaint town setting.
9 mo BOM; January 2024 - September 2024
44" x 55"

Don't miss out on this houses block of the month in hand-picked bright batiks and Moda Grunge hand-picked by Joanna and Luann. Kits include all fabrics for quilt top including borders. This BOM is recommended for those that have foundation-piecing experience. Pattern includes complete instructions for the quilt and full sized patterns. For months 1-8 you will receive the foundation pattern and generous amounts of the batik fabrics they used. In month 9 you will receive the border fabric.

Purchase of this BOM entitles you to attend the BOM Sunday Sew for free, usually the second Sunday of each month. See the product description for exact dates. You will receive an email reminder approximately 2 weeks before BOM Sunday Sew so you can sign up each month.

Size: 44" x 55"

Registration: $61.99 (includes registration fee, pattern fee, and Month 9 payment).
Months 1-8: $19.99/mo.
We will ship these kits to you for a flat $5.99/mo within the continental US. Call for international shipping rates.

NOTE: This item is for the reservation for the My Kinda Town BOM and includes the registration fee and Mo 9 payment. Once you sign up, this is a non-cancellable commitment. You must call the shop during normal business hours and put your credit card on-file for the monthly payments of $19.99/mo for Mo 1-8 (January 2024 - August2024). Your card will be charged the first week of each month. Kits will be available by the end of the first week of each month. If you wish for your kits to be shipped, do not select shipping at checkout, but rather make a note at checkout and let the staff know when you call to put your Credit Card on-file.

Participation in this Club also entitles you to attend the free monthly BOM Sunday Sew, hosted by Audrey, usually 10am - 4pm the second Sunday of each Month (dates may vary). You will receive a reminder email about the BOM Sunday Sew approximately two weeks in advance so you can sign up. Check the Granary calendar to see exact dates; click here.