Skip Navigation
Website Accessibility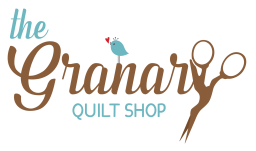 I Spy (51" x 51") BOM Reservation
Not too late to join!

This BOM runs from Sept 2021 - Aug 2022. Kits will be ready mid-month.

Join Candy in this fun BOM that follows the I SPY Quilt book by On Williams Street. Completed quilt measures 51" x 51" and contains 100 foundation-pieced blocks measuring 4 inches each. The program includes the book, Kona Cotton Solids by Robert Kaufman Fabrics, templates printed with block patterns to complete 8-9 blocks per month, and multiple ZOOM workshops to discuss an overview of the program, paper-piecing techniques, and specific questions from members. Monthly BOM, which includes the printed templates and individual fabrics for the month, can be picked up at the shop or mailed to you for an additional shipping charge.

This purchase reserves your spot for this adorable BOM and includes the Book and your Downpayment (which is your Mo 12 fee). Total Reservation Fee = $47.99.

Mo 1 - Mo 11 will be $12.99/month. You will be required to put your credit card on file for subsequent month payments (someone will contact you for your card number).

This BOM is non-cancellable and non-refundable.

Zoom Workshop Dates : Thurs, Sept 30, 2021 - 6:30pm
Thurs, Oct 28, 2021 - 6:20pm
Thurs, Jan 6, 2022 - 6:30 pm
4th Class: TBD
Zoom Workshops will be recorded, so if you miss one, you can watch it later.

If you'd like your BOM shipped to you monthly, please select shipping at checkout. We will ship the book with your Month 1 blocks for the shipping fee included with this purchase. Subsequent months will ship for $4.00 per month (US shipping). For international shipping, please call the shop for more information.