Skip Navigation
Website Accessibility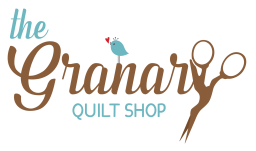 Christmas Cheer Quilt Kit 48-1/2" x 56-1/2" in Merry Kitschmas from FigoFabrics
Christmas Cheer Quilt Kit
48-1/2" x 56-1/2"
in Merry Kitschmas by Louise Pretzel for Figo Fabrics
100% cotton

Oh my, just cute as can be! This Christmas Cheer wall quilt in Merry Kitschmas fabrics by Louise Pretzel for Figo Fabrics is an instant classic. The oh-so cute prints bring this large block quilt to life!
Audrey recommends this as a fun quilt to try your hand at several differnet construction methods! The pattern is a compilation of traditional pieced, template, and foundation pieced blocks (Bows on presents, and the stars are paper pieced). However, the pattern includes instructions to applique the stars if you'd rather not paper peice them.

Kit Includes:
- Christmas Cheer pattern by Corinne Sovey
- Fabrics for the quilt top and binding as shown in the first photo from the Merry Kitschmas collection by Louise Pretzel for Figo Fabrics

Backing is NOT INCLUDED. You will need 3-1/4 yds 42' - 44" wide fabric for the backing.

Merry Kitschmas is inspired by the whimsical nostalgia found in vintage Christmas traditions and decor. Ditsy patterns of sparkles and candy are mixed into this collection to make it extra merry and bright!

To see all the fabrics, precuts, and kits in the Merry Kitschmas line, click here.