Skip Navigation
Website Accessibility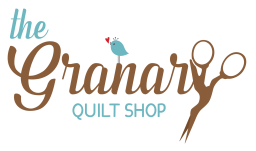 2021 Quilters Harvest Hop Block Pattern - PDF Downlaod
2021 Quilters Harvest Hop Block Pattern from The Granary, Sunnyvale, CA. PDF download.
"The Book Shop". One 14-1/2" x 14-1/2" (unfinished) block.
The pattern includes detailed directions and full-sized templates for appliqued window and vent pipe.

Note: the pattern only includes directions for making the blocks. We use 1" finished and 4" finished borders in our sample photo.

To purchase a kit to make our Book Shop block (including the special library book fabric for the window), click here.

Once you have completed your purchase you will immediately be presented with the option to download the PDF file.
You will also receive an email from The Granary Quilt Shop Inc. that will include your receipt and a link to the PDF file. If you do not see this email in your Inbox, please check your junk/spam folder.
If you have trouble, please email The Granary at info@thegranaryquilts.com.