The stunning Solare quilt by BOM experts, Bound to Be Quilting is presented in beautiful and wildly popular Banyan Batiks. Join Audrey monthly for a lesson on making each month's blocks for this intermediate-level block of the month. Monthly fee includes pattern, fabrics, and montly lesson at the shop.

The Solare BOM pattern has multiple blocks that are a little more challenging, but wouldn't be considered difficult. We think this quilt will appeal to intermediate quilters. The colors of this quilt, evoke earth and sky look using browns, oranges and greens that reflect nature, with the blues and golds of the heavens; a combination that should be pleasing to both men and women.

Monthly kits will make the quilt top, binding, and the bonus pillow project shown below.

Class will be on the first Saturday of the month, beginning in February 2023, from 10:00am - 12:00pm (September class on Sept. 9).

Monthly BOM Fee: $44.99 (includes pattern, fabric kit (top and binding), and class at the shop. Tools and notions featured in the class during the year will be 10% off.

Size: 99" x 99"
Cost/Monthly Fee: When you sign-up for the class BOM option, you are paying for the class and your Reservation and Month 12 kit. We will call you to put your credit card on file for payments for Mo 1 - Mo 11 ($44.99 per month). Kits will be ready the first Saturday of each month during class. Your credit card will be automatically charged (for the BOM and shipping, if applicable) at the beginning of each month. This is a non-cancellable purchase. There are no refunds for missed classes.

To sign-up for this BOM without the class, click here.
Class Date(s) & Time: February 2023 - January 2024
First Saturday of the month from 10:00am - 12:00pm (September class on Sept. 9)

Purchase of this BOM also entitles you to attend The Granary's BOM Sunday Sew with Audrey for free (see dates and more information below).

BOM Sunday Sew
Audrey will be your hostess. Stay motivated. Sew with other quilters. Get a little help, if needed. Try a new tool. Have fun and relax. Bring your lunch. Space available on a first-come-first-served basis; sign-up will open up 2 weeks before the BOM Sunday Sew date.

Dates (10am - 4pm):
- January 15
- February 5
- March 12
- Apr - Dec - Dates TBA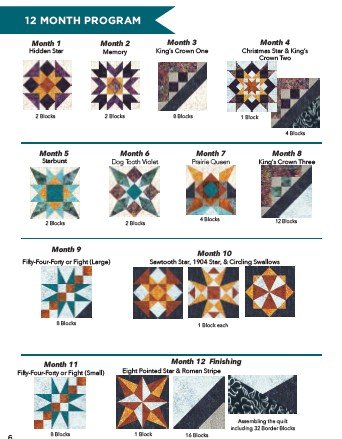 COVID POLICY: Up-to-date COVID vaccination/boosters required for class attendance. There are no exceptions. Please understand this requirement is for your safety and the safety of others. Your class payment/registration confirms your compliance with this requirement. Masks may be required depending on the county healthdepartment recommendations at the time.