Skip Navigation
Website Accessibility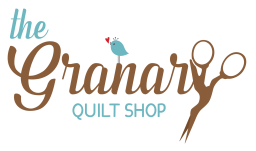 Welcome to Your Friendly Neighborhood Quilt Shop!
2023 Shop Hops - Just one more in 2023!
Mark your calendars for the 2023 Quilters Harvest Hop, Thursday - Saturday, September 14
-16 (9am-5pm). This year's th
eme is Quilted Barn Trail. There will be TWO different free barn patterns to collect in addition to a custom 6" quilt block insert from each participating shop. Collect the basic barn patterns with your passport at your first stop. Collect a pattern for a custom 6" quilt block from each shop. Each shop will also be kitting their block. Audrey can't wait to bring you The Granary's block, called Barn Storming - it makes us chuckle! We'd love to see you in September!
For more information, a list of participating shops, and prizes, click here.
To preorder your Granary barn block kit, click here.
Note: If you are coming our way, why not take a class at The Granary as long as you are in the area? Julie's Free Motion Quilting (for adults) is on Wed, Sept 13, 6-9pm and Beginning Needle Felting (for adults and kids 10 and up with an adult) is on Sat, Sept 16, 10am-1pm.

Row by Row Experience® is Back!
The Granary is delighted to participate in the 2023 Row by Row Experienc
e® fun and easy shopping adventure! This year's theme is, Summertime! Visit Shops and Collect Patterns June 1 - August 31, 2023. A free pattern may be picked up at each participating shop between June 1 and August 31. Patterns can't be mailed or emailed until after August 31, however, you can purchase a kit for the row (including the pattern) in store or online during the event.
Click here to order your Granary 2023 Row by Row kit, "Arnie Needs a Bigger Boat".

(Kit includes row only; borders are not included.)

Click here to order your Granary 2023 Row by Row Jr kit, "Calico the Caterpillar".(Kit includes row only; borders are not included.)

Click here to order prior year Row by Row patterns and kits.
To find other participating shops and for prize rules, visit www.rowbyrowexperience.com.

Past 2023 Shop Hops - They will be back in 2024!
The 2023 Shop Hop by the Bay in June was great fun! This year's pattern was

a terrific tote bag! You can still get the pattern; click here. The Granary has many black and white fabrics and towers available along with terrific "wow" fabrics for top and bottom bands, if you'd like to make a similar tote. We also have a large selection of pre-made bag handles; click here to peruse them or stop in and check it out!
For more information, a list of participating shops, and a list of prize winners, click here.



The 2023 Quilters March Madness Shop Hop, was Thurs. March 9th - Sat. March 11th. The theme this year was "Going Dotty". Hoppers collected a dotty fat quarter with dots from each shop and saw what wonderful projects the shops had assembled using the shop hop fabrics. The Granary featured a new pattern for an easy and fun half-square triangle quilt - stop by to see Audrey's version in person or click here to order the pattern.
For more information, a list of participating shops, and a list of prize winners, click here.


New BOMs for 2023 are ready for sign-ups.
Click here or on the "BOMs" page above for details.


The 2022 Wooly Block Adventure blocks are still available!

Arnie is featured once again in The Granary 2022 Wooly Block, "Arnie's Front Porch on Chirstmas Eve". We have the pattern, kits (pattern, wool, and beads), and a thread kit available. Click here to purchase.



2022 Quilters Harvest Hop - Fresh Eggs Block Kits available.

We had a great time during the 2022 Quilters Harvest Hop in September. Stop by the shop to see
the fun placemat we made with this year's "Farmer's Market" themed blocks. Click here to purchase our "Fresh Eggs" block pattern and kit (with precut, prefused letters), as well as the placemat and mitered corner napkin pattern. We also have fat quarter packs of the fun farmer's market themed prints we used for the placemats and a lucious fat quarter pack of Robert Kaufman Essex linens is also available to make coordinating napkins.


We've designed four finishing patterns using Riley Blake destination and national park panels.
You can purchase a panel and the pattern at The Granary. The pattern features 4 new border designs for Riley Blake Destination or National Parks panels, all in one pattern. We suggest tools to make border construction a breeze! Each border uses several fat quarters and an accent fabric. We have many panels in stock, including a new Californai Beaches panel!

Click here to order the Panel Border Pattern online.
Click here to order the Riley Blake National Park and Destination panels.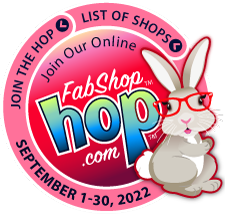 Bunny Hint: bunny likes to
"View" our "Products"!
Don't forget to sign up for our newsletter by clicking here!